Israel's Biggest Developer Battles Cheap Stock With Global Plan
27-Aug-2015
David Wainer, Bloomberg
Shikun & Binui Ltd., Israel's oldest and largest construction company whose majority shareholder is billionaire Shari Arison, will target more opportunities in the Americas, the chairman said, amid intensifying competition at home.
"Our new strategy focuses on expanding our activities abroad," Moshe Lahmani said in an interview at his office on Monday. "We are looking to grow our infrastructure, energy and real estate operations as well as our presence in the capital markets. We are still seeking to build our business in Israel as much as we can but we definitely are setting out to expand our global presence."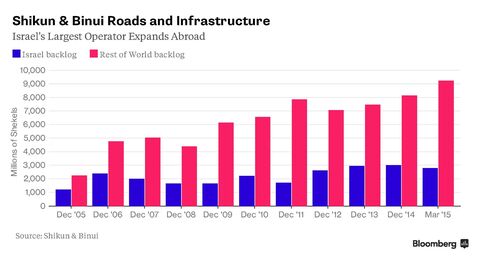 The company's expansion abroad comes as it faces a slowdown in sales and an under-performing stock. Shikun & Binui's revenue fell last year for the first time to 6.2 billion shekels ($1.6 billion) after growing every year since Bloomberg began tracking earnings in 2006. The stock has underperformed the TA-100 Index this year, dropping 1.6 percent compared with a 7.9 percent gain for the gauge. The company's dividend yield is among the highest on the index in the past year at 6.5 percent.
Shikun & Binui fell 2.8 percent to 8.11 shekels at the close in Tel Aviv.
In its home market of Israel, where Shikun & Binui in its pre-privatized incarnation dominated domestic construction, the company has faced increasing competition in winning government tenders, according to Adar Etzioni, an analyst at Excellence Nessuah Broker Services Ltd. in Petach Tikva, Israel.
Building Roads
The company, which is already present in Africa, has won concessions for building roads in the U.S. and Colombia, and is exploring expansion into Peru, Lahmani said. He also expects that a "pre-qualification for an additional project in the U.S. will happen this year." As part of an effort to unlock shareholder value, the company's German residential business ADO Properties GmbH was listed in Berlin.
Jacob de Tusch-Lec, who helps oversee 20 billion pounds ($29.5 billion) at London-based Artemis Investment Management LLP, says the fact that the company has so many disparate businesses, from renewable energy to housing, makes it harder for investors to value it, giving it a "conglomerate discount." The company is the second-cheapest member of the Tel Aviv Real Estate Index, with a price-to-earnings ratio of 6.74 compared with an index average of 13.8.
"The company operates real estate in Berlin, construction in Nigeria, and infrastructure and renewable solar plants in Israel," said de Tusch-Lec, whose Artemis doubled its stake in Shikun & Binui to 7 million shares in the second-quarter. "This creates a perceived lack of focus."
Increase Confidence
Still, de Tusch-Lec approves of the company's westward ambitions.
"If they can deliver on these projects in the Americas, I think that is a major positive, and it's the kind of thing that will increase our confidence in a reinvigoration of the company's growth," he said.